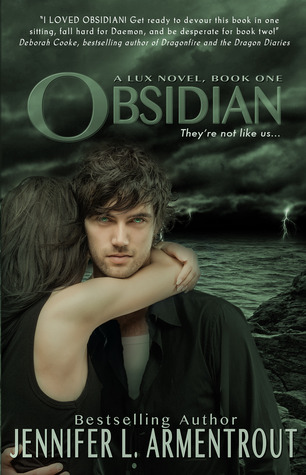 Genre: Aliens
Goodreads Synopsis:
When we moved to West Virginia right before my senior year, I'd pretty much resigned myself to thick accents, dodgy internet access, and a whole lot of boring... until I spotted my hot neighbor, with his looming height and eerie green eyes. Things were looking up.
And then he opened his mouth.
Daemon is infuriating. Arrogant. Stab-worthy. We do not get along. At all. But when a stranger attacks me and Daemon literally freezes time with a wave of his hand, well, something... unexpected happens.
The hot alien living next door marks me.
You heard me. Alien. Turns out Daemon and his sister have a galaxy of enemies wanting to steal their abilities, and Daemon's touch has me lit up like the Vegas Strip. The only way I'm getting out of this alive is by sticking close to Daemon until my alien mojo fades.
If I don't kill him first, that is.
Before Reading:
My initial thought when picking this book up was, ''huh this seems interesting...'' The summary and the cover drew me in and when I read the first few chapters I knew I was hooked. I read this book in one sitting and I couldn't get over the fact that it was amazing. Armentrout created a unique alien world that captured my attention. By the end of the book I was suffering from crazy fan-girl syndrome, jumping up and down while squealing, and wishing I had a smoking hot sexy alien that got on my nerves living next door to me!
Oh. My. Daemon! This smoking hot alien had me fanning myself with his remarkably good looks and witty charm. I was melting into a puddle of goo by a fictional character. Huh... can't say that has ever happened before, but I'm not complaining. Daemon is infuriating, annoying, arrogant, cocky, and smoking hot. His interactions with Katy were downright hilarious and I couldn't help but conjure a goofy grin on my face.
Katy and her mother have just moved next door to Dee and Daemon. On her first day at her new home Katy decides to go over to her neighbors house to introduce herself. But introducing herself turns into a witty quarrel with the hot alien guy next door. Daemon is egotistical and knows how to push Katy's buttons. Instead of being a good neighbor, Daemon and Katy get into a mini fight. She is furious with this idiotic hot neighbor who was just being a dickhead. All Katy wanted to do was introduce herself and get directions, but Daemon had other plans. Soon Katy realizes she will be attending school with him, his twin sister and a few of their cousins. Katy has no idea what is in store for her, but all she knows is that it will be interesting.
Fitting into a new school is hard enough, but when Daemon saves Katy from a oncoming car, he freezes time. Literally, he froze time to save her ass. In a few minutes she finds out that he's an alien, a galaxy of enemies are after their powers, and Daemon has just lit her up like a Vegas strip club. Now Katy has to stick to Daemons side until she stops looking like a bright beacon for alien enemies to come after them. But how can she do that when Daemon is good at getting on her nerves, pushing her buttons, and challenging herself control in not smacking him.
Obsidian was definitely a fun and entertaining read. I enjoyed everything about this book and I fell in love with the characters. I can't stress how good this book is, so if you don't believe me then I suggest you go read it for yourself!