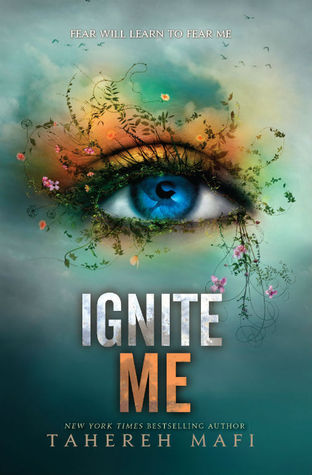 Genre: Dystopian
Published: February 4, 2014
Goodreads Synopsis:
The heart-stopping conclusion to the New York Times bestselling Shatter Me series, which Ransom Riggs, bestselling author of Miss Peregrine's Home for Peculiar Children, called "a thrilling, high-stakes saga of self-discovery and forbidden love."
With Omega Point destroyed, Juliette doesn't know if the rebels, her friends, or even Adam are alive. But that won't keep her from trying to take down The Reestablishment once and for all. Now she must rely on Warner, the handsome commander of Sector 45. The one person she never thought she could trust. The same person who saved her life. He promises to help Juliette master her powers and save their dying world . . . but that's not all he wants with her.
The Shatter Me series is perfect for fans who crave action-packed young adult novels with tantalizing romance like Divergent by Veronica Roth, The Hunger Games by Suzanne Collins, and Legend by Marie Lu. Tahereh Mafi has created a captivating and original story that combines the best of dystopian and paranormal, and was praised by Publishers Weekly as "a gripping read from an author who's not afraid to take risks." Now this final book brings the series to a shocking and satisfying end.
My Review:
I DIDN'T EXPECT THIS BOOK TO END IN THIS WAY!! AHHHH THERE ARE JUST:
This book didn't go anywhere that I thought it would. Now that I have read it, I can't stress how surprised and satisfied I am with the ending. Mafi created a unique dystopian world that captured my heart and soul. I was constantly on the edge of my seat waiting for something crazy to happen. The plot thickened at every page and the ending melted my heart. This action packed, romantic, dystopian novel was such a rush to read. My emotions were all over the place. Plus it was fast paced which I enjoyed a lot.
After Juliette, Adam and the secret underground society failed to defeat Warner's father, their entire compound was destroyed. Many people died and the survivors were scattered with no way of knowing who was alive or dead. When Juliette wakes up she is back in Warner's compound, but this time she is in his room, safe and sound. As days pass by, Juliette comes to realize Warner isn't the evil bastard she thought he was. Instead he is a genuinely caring guy who only wanted Juliette to help him save his mother. Juliette and Warner's relationship is off to a rocky start and they both show some affections towards each other. However, as the days go by, they realize the only way to defeat Warner's father is to join forces with Adam and the last survivors. Adam doesn't want to join forces since he still distrusts Warner, But Kenji (Ohh How much I love Kenji!!!!) is willing to help Juliette if it means they all are free to live.
As the plot thickens, we get to see different sides of the characters that we met in book one. The characters have so much depth and realistic ability that I was able to connect with them. I was soo happy with Juliette's decision for who to be with. I know most people hated that ending, but I'm glad it was unexpected. Overall, an amazing series and I bet there will be a movie on this in the near future! Here's me hoping!!! *fingers and toes crossed!*