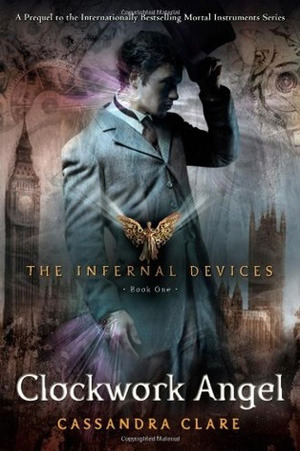 Genre: Angels, Nephilim
Published: August 31, 2010
Series: The Infernal Devices
Goodreads Synopsis:
In a time when Shadow hunters are barely winning the fight against the forces of darkness, one battle will change the course of history forever. Welcome to the Infernal Devices trilogy, a stunning and dangerous prequel to the
New York Times
bestselling Mortal Instruments series.
The year is 1878. Tessa Gray descends into London's dark supernatural underworld in search of her missing brother. She soon discovers that her only allies are the demon-slaying Shadow hunters—including Will and Jem, the mysterious boys she is attracted to. Soon they find themselves up against the Pandemonium Club, a secret organization of vampires, demons, warlocks, and humans. Equipped with a magical army of unstoppable clockwork creatures, the Club is out to rule the British Empire, and only Tessa and her allies can stop them....
Cover/Summary:
The cover and summary is what caught my attention and made me want to read this series. I am a huge fan of Clare and her Mortal Instruments series was amazing. So when I found out about Clockwork Angel I knew I had to read it. Clare has a way of creating unique lovable characters that capture your attention and make you love them. The interesting world Clare created about Shadowhunters and Downworlders truly fascinated me. I loved this idea of hunters and the writing style was captivating.
Plot:
The plot takes place in London and the details of the scenes were captured beautifully. Tessa, an American girl who has come from New York to London in search of her brother, Nathaniel. After arriving she discovers he is nowhere to be found. Then suddenly she is captured by the Dark sisters who want something from her. She learns fairly quickly that there is a whole new world she didn't know about. She learns about Downworlders, Nephilim, and Showhunters and is thrown into their world without having any say in the matter. But in order to find her brother she must learn to live in this new world, learn to fight, and accept her new reality because if she doesn't she may never find her brother. As always there is something bigger and scarier happening behind everything that is going on and Tessa is somehow in the middle of it all. Tessa will learn to survive and sometimes finding answers is a risky task even if it means the answers leading to a dangerous path.
Characters:
Tessa was an okay character. I have noticed that in the beginning of any series I don't like the main female characters because they are so stupid and immature. Tessa wasn't always stupid, but she did make poor choices. At first I thought her character was going to be a whiny little girl, but towards the middle of the book she became stronger and I started to like her spunk. As for the other characters I have to say that they were amazing. Will and Jem were my favorite. Although I HATE love triangles (and I didn't like that in this book) I was surprised to find myself liking both guys and which ever one Tessa ends up with I will be happy. Will is kind of distant and mysterious, while Jem is more friendlier and encouraging. I liked how Jem and Will were best friends regardless of their differences and had each others backs no matter what. Their friendship reminded me of my friendship with my best friend and that's why I enjoyed this book even more.
Overall:
An interestingly cool topic about Shadowhunters. I liked how the author incorporated angel facts and history into this book. The politics and culture of the Shadowhunters was captivating and descriptive. Yes this book was freaking long as heck, but the ending was worth the wait. My jaw had hit the floor and I was yelling, screaming, and squealing with delight. I truly enjoyed reading this book.