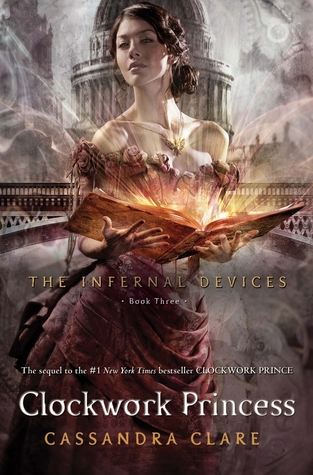 Genre: Angels, Nephilim
Published: September 5, 2013
Series: The Infernal Devices
Tessa Gray should be happy—aren't all brides happy? Yet as she prepares for her wedding, a net of shadows begins to tighten around the Shadowhunters of the London Institute. A new demon appears, one linked by blood and secrecy to Mortmain, the man who plans to use his army of pitiless automatons, the Infernal Devices, to destroy the Shadowhunters. Mortmain needs only one last item to complete his plan. He needs Tessa. And Jem and Will, the boys who lay equal claim to Tessa's heart, will do anything to save her.
Jem and Tessa are getting married. Jem and Tessa are getting married. Jem and Tessa are getting married. *hyperventilates* Doesn't matter how many times I say this there are two things that will never chance. 1. I can't register the fact that they are getting married. 2. They will get married regardless of my yelling. Ahhhhhhhhhh! Nooo! Why Clare!? Why do you make me go through this!?
Clearly I am not happy about this. I like Jem, but I don't want Tessa to marry him. She loves Will and Will loves her. But Will is stupid and he let Tessa go. So screw YOU Will you deserve to watch the girl you love marry someone else. Even though she doesn't love him. Ahhhhhh! So much craziness I love it!
While planning for her wedding Tessa gets kidnapped by Mortmain who wants her powers to take over the world. Her powers will give him the ultimate power to defeat the Nephilim and rule. However, Jem is getting sicker by the day and isn't able to come to her rescue. When Will shows up looking for Tessa all of their feelings come flooding out. They truly love each other, but it's too late now. Will screwed up and Tessa won't stop the marriage. Tessa is able to find her brother as well who happens to be in cahoots with Mortmain. While being kidnapped, she was taken somewhere far away and had no way to come home. Living with her crazy psycho evil brother was hard enough, but when he wanted her to forgive him for his wrong doings and live like a family, Tessa blew up at him. How could she forgive her own flesh and blood for kidnapping her, hurting her, and lying to her only for more power? Not to mention he killed so many innocent people while Tessa was trying to save them.
This series has been an emotional roller coaster ride. I enjoyed every minute of it and it's sad to see it come to an end. But the end was mind blowing and I am completely satisfied. Sure there were things along the way that I hated, but the entire concept was pretty cool. I was surprised at the end, but the epilogue was the most heart wrenching.
After Tessa and Will defeated Mortmain life for the three went on a they had planned. At the end when Tessa is speaking of the life she had lived with Will right until his last breath was very heart wrenching for me. I loved how Will's love for Tessa and his personality never changed. When Will looked at Tessa and Jem for the last time, smiled and died, I was a sobbing ball of a mess. I have never cried at the end of any book. EVER. So when I realized that I was crying at the end of this one I was shocked and speechless. Just an amazing end to a wonderful series.