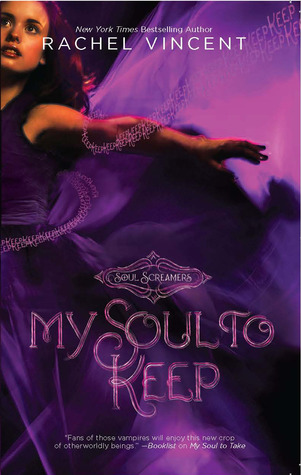 Genre: Bean Sidhe
Goodreads Synopsis:
Kaylee has one addiction: her very hot, very popular boyfriend, Nash. A banshee like Kaylee, Nash understands her like no one else. Nothing can come between them.
Demon breath.
No, not the toothpaste-challenged kind. The Netherworld kind. The kind that really
can
kill you. Somehow the super-addictive substance has made its way to the human world. But how? Kaylee and Nash have to cut off the source and protect their friends—one of whom is already hooked.
My Review:
When I finished My Soul to Keep, I realized I was on the edge of my seat with anticipation of starting the fourth book. I had hardly moved from my room and finished this book so quickly. Vincent not only created a strong piece of dark fiction, but she also touched base on many real issues that teens/adults face today. I felt like I connected with the characters on a personal level and I enjoyed every minute of it!
After Kaylee and her friends went through hell to save Tod's ex-girlfriends soul, they realized there are far more dangerous people in the Netherworld who want Kaylee very badly. You see Kaylee is a very special kind of Bean Sidhe and the devil himself wants her soul. Even though Kaylee has been through her fair share of horror, she has always been there for her friends. So when Kaylee and Nash attend a classmates party they are surprised to find Demon's Breath making it's way around. Demon's Breath is a deadly form of drug from the Netherworld that can cause unforeseen consequences to those who take it. And now half the school is going around trying to acquire this substance. It's up to Kaylee, Tod, Nash and her friends to figure out who is supplying this and stop them before more of their classmates die.
I felt every emotion that Kaylee felt throughout the book. Betrayal, love, shock, hurt, fear...All these emotions were written cleverly and the ending was fierce. Kaylee is a strong independent young women who has a beautiful heart. Touching on issues such as drug abuse and everything that it involves could hit home for a lot of readers. Vincent cleverly puts all the negativity about drug abuse in this piece of fiction which sends a strong positive message to the reader.